WHY CHOOSE SINGAPORE
Singapore has carved out a competitive niche as one of the easiest and most accessible locations to do business in Asia. It is an increasingly popular destination for regional headquarters, branch offices and holding companies seeking to access the wider Asian and ASEAN markets.
An independent state just over 50 years old, Singapore is an economic powerhouse that values its diverse multi-ethnic and multi-religious society.
Singapore is not just one of the most advanced free- market economies within the 10-member Association of Southeast Asian Nations (ASEAN), it is also one of the most politically stable countries in Asia.
While Singapore's domestic market is relatively small, a high-level of state intervention in the economy has powered the city-state's growth and positioned it as Southeast Asia's most attractive destination for regional corporate headquarters. This has also been aided by a regulatory environment which is not only pro-business and free trade but also committed to ongoing optimisation. Thus, Singapore is well deserving of its number two ranking in the World Bank's Ease of Doing Business index for 2018.
Singapore continues to be a regional business hub for ASEAN and wider Asia-Pacific due to its highly- educated workforce, excellent air transport links, developed infrastructure, transparency in business operations and western business practices. Many companies adopt a "hub and spoke" approach, using Singapore as a base from which to access opportunities in neighbouring markets.
Singapore is a potential gateway for Irish businesses into the nine other ASEAN member states - Malaysia, Indonesia, Thailand, Philippines, Vietnam, Myanmar, Cambodia, Laos and Brunei. With a population of 634 million, the scale of ASEAN's marketplace, almost US$2.6 trillion in gross domestic output in 2016, is matched only by the diversity of its economies. As efforts toward further integration within the region continue, ASEAN's projected growth rates are set to remain at around 5.3% until at least 2020.
KEY GROWTH OPPORTUNITIES IN SINGAPORE
Aerospace, Aviation and Traveltech
Construction and Cleantech
Financial services and Fintech
Healthcare - medical devices, digital health, consumer health
Telecommunications and Internet of Things (IoT)
There are key sectors with significant public procurement opportunities including: Aerospace, Aviation & TravelTech, Construction, Clean Technology, Fintech, Medical Devices, Digital Health & Consumer Health, and Smart City solutions.
Singapore's "Smart Nation" initiative is opening up opportunities in ePayments, sensor networks, urban mobility, digital identity and big data applications. 

Singapore is a highly developed market which demands goods and services of the highest quality. Irish companies have traditionally been able to meet these requirements and flourish in the market. Success stories are common among companies who take a strategic approach to committing to the market and use Singapore as a base to access neighbouring markets. Finding the necessary talent in the local labour market and expatriating staff where required are among primary concerns for Irish companies. Recently, Singapore's Ministry of Manpower has tightened rules on employing foreigners, which has negatively affected some companies.
Ireland and Singapore already have a close trading relationship. Irish exports and services to Singapore are currently worth in the region of 6.4 billion euros a year (2018). Services exports are particularly strong having more than doubled since 2012 and the EU- Singapore Free Trade agreement will increase market access, creating opportunities for that growth to continue.  
Singapore is Ireland's 8th biggest trade partner outside the EU, As a result, the business relationship between Ireland and Singapore is large with (SGD$10bn in trade), and growing, particularly in services. The Irish Chamber of Commerce (Singapore) is committed to supporting the growth of this relationship, reinforcing Singapore's key position as a springboard to Asia.

Singapore offers foreign-owned businesses four options of establishment within the city-state - Branch Offices, Representative Offices, Subsidiary Companies (Private Limited Companies), and Partnerships. For companies seeking to establish a low-risk, exploratory presence in Singapore or for those entering Asia
for the first time and seeking to explore options for regional expansion in ASEAN, the Representative Office is typically the most effective option.
SET- UP OPTIONS IN SINGAPORE COMPARED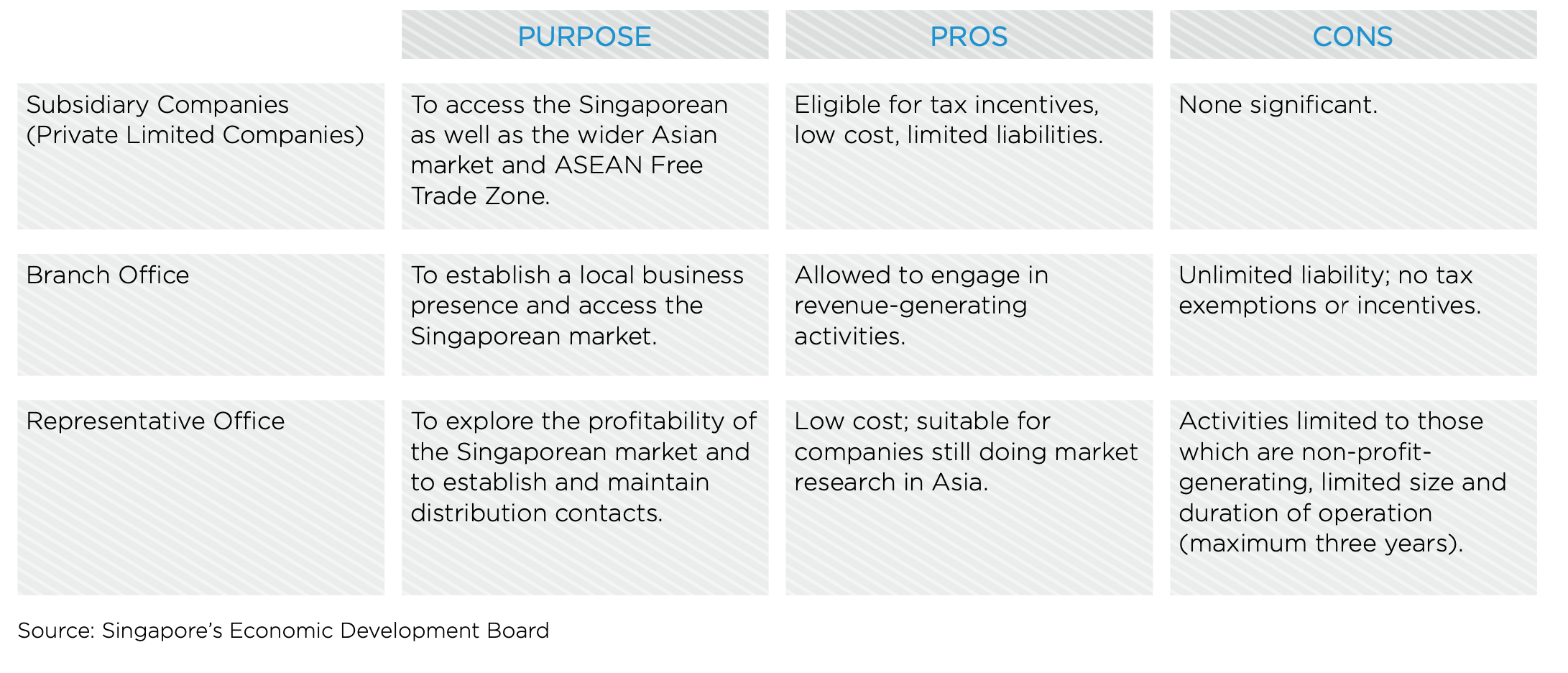 VISA REQUIREMENTS
Irish passport holders can stay in Singapore for up to 90 days visa-free. Irish travellers should be aware that the entry requirements of almost all Asian countries, including Singapore, stipulate that passports must be valid for at least six months at the time of entry.
For more information on visa requirements see: https://www.mfa.gov.sg
WORK VISAS AND PERMITS
All foreign workers must hold the relevant work permit prior to commencing work in Singapore. To view the different options and what might apply to you, please see the Ministry of Manpower website. If you are an entrepreneur starting a new business in Singapore, you will require an Entrepass. For details of requirements to obtain this pass, please click here. 
ENTREPRISE IRELAND
Enterprise Ireland's Market Research Centre offers client companies access to market intelligence in the form of company, sector, market, and country information to explore opportunities and compete in international markets.
Enterprise Ireland is committed to assisting and supporting clients to enter new markets and expand in their current markets. Our team of experienced market professionals in our overseas offices are ready to help you. Enterprise Ireland offers flexible solutions for client needs, as well as business supports for success in the market. This includes our Market Research Centre and local market supports, our experience in building selling capabilities, and our assistance with trade events and missions.
A key tool to assist with accessing the Singaporean market is the recently published  Going Global Access Asia Guide produced by Enterprise Ireland. Covering success factors, routes to market, legal issues, growth sector and government information, the guide can be downloaded here: Access Market Guide, Singapore
Enterprise Office Ireland in Singapore contact details:  Mr Kevin Ryan, Director ASEAN,  Email: kevin.ryan@entreprise-ireland.com  Telephone: +65 6804 9380
HOW THE IRISH CHAMBER OF COMMERCE CAN HELP
By joining the Irish Chamber of Commerce, we can facilitate meetings with members who have been down this route, from setting up their own companies, to setting up offices for companies with a global presence, our introductions can help you through the minefield of information. As a member you will be able to attend our events at a member's rate, providing you with networking opportunities, industry insight and introductions to senior officials and business people.
Relevant government organisations details are:
Enterprise Ireland: https://www.enterprise-ireland.com/en/Export-Assistance/International-Office-Network-Services-and-Contacts/Singapore.html 
Embassy of Ireland, Singapore: https://www.dfa.ie/irish-embassy/singapore/
IDA Ireland Singapore Office: https://www.idaireland.com/how-we-help/global- teams/singapore
Bord Bia (Irish Food Board), Singapore: https://www.bordbia.ie